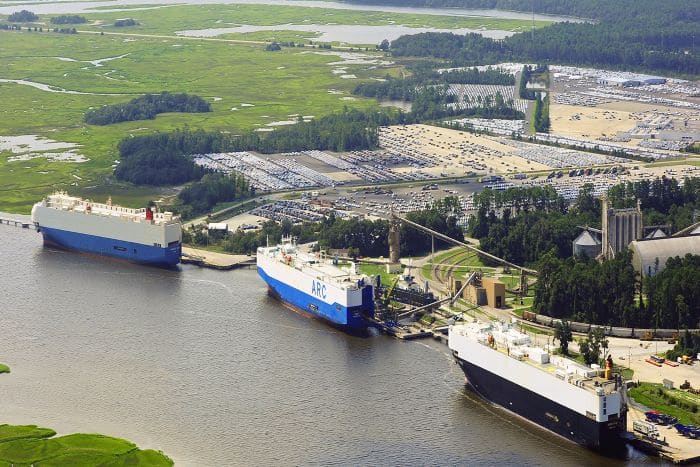 We are constantly growing our services to meet the demands of our local customers as well as our clients throughout the U.S. and abroad. Strategically located near the Brunswick Port in Brunswick, GA, we have the relative capacity to service your heavy machinery needs. Our Brunswick Port services include machine washing, heavy equipment repair, RORO prep, heavy equipment dismantling, onsite port inspection, heavy equipment storage outside of the port, and delivery services into the Port of Brunswick. We are familiar with the people, processes, and geographic location with full TWIC and Georgia Ports credentialing to access the Port of Brunswick.
Many of our clients will hire us for machinery storage outside the gates of the Brunswick Port as decisions await, work is done, and/or processes are complete. Many times we will "port prep" machines before they enter for export. This could include partial dismantlement, hydraulic repair, leak fixes, component protection, wrapping, and more. On the other hand, it's not uncommon for clients to ask us to remove their imported machines from the Port of Brunswick and taken to an off-site storage location for temporary storage while final destinations are established. Brunswick Port machine washing is a major component of our offered service, as they are somewhat particular about the cleanliness they require for ship loading.
As always, if you believe there is a Brunswick Port service not listed here, please always do not hesitate to reach out. We truly value our commitment to go above and beyond, our relationships are extremely important to us, and we feel the best form of advertisement is positive word of mouth. It will be our commitment to make each client feel like they were exceptionally well taken care of. For more information or special requests, give us a call at the office 912-689-1230 or contact us by email at [email protected] Thanks to everyone for their continued support, it is appreciated more than you know and we try to express that in the attention to detail we give to each and every situation.
Take care.  – Steve