Port Of Savannah Services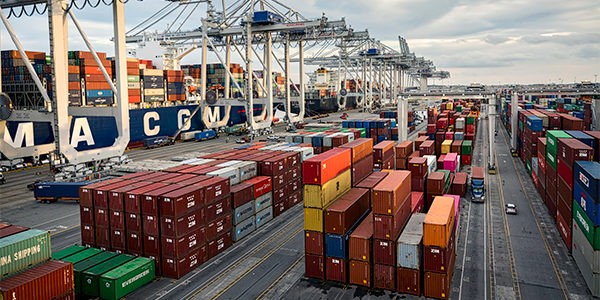 At Project Freight, we work in and out of the Port of Savannah on a regular basis, ensuring that we can handle all of your container, ro/ro, breakbulk, and project cargo transportation needs. Over the years we have become very familiar with the port, and stay closely connected as they've grown. We've put together a little overview of the capabilities at the Port of Savannah, if you have any more questions check out our Contact page and give us a call!
Container
The Port of Savannah is North America's largest container terminal at 1,200 acres! Speaking of numbers, there are some other big ones- 36 container cranes, 158 rubber tiered gantry cranes, and nearly 2 full miles of uninterrupted berthing space. At the Port of Savannah, you won't run into any issues with speed or efficiency. Their specialized equipment allows a lot of containers to move- 8 million TEUs per year, to be exact. And they aren't slowing down their growth either. In the works are additions of 8 more ship to shore cranes, 64 gantry cranes, and of course storage and berth expansions to accommodate the heavy volume.
Ro/Ro
Even though the real hub for ro/ro is the Port of Brunswick about 60 miles south of Savannah, the Port of Savannah still holds its own. In Savannah, ro/ro is handled at Ocean Terminal, which features five deepwater berths, and of course ample storage for vehicles and equipment. Customs and Border Protection is on site, the infrastructure is second to none (and growing), and the facilities are as secure as it gets. Pair that with Interstate and Rail access, and you've got a perfect port for your ro/ro needs
Breakbulk
For project cargo, forest products, and iron and steel products, the Port of Savannah has you covered. With 1.4 million square feet of covered storage and extensive material handling equipment, there is no shortage of the necessary equipment to handle your breakbulk cargo. Here at Project Freight we have the necessary experience and connections to get your break bulk cargo out fo the port and to its destination efficiently and safely.
Project Cargo
This is the fun stuff. The Port of Savannah's barge mounted cranes, container cranes, and 22 forklifts allow them to handle the biggest and heaviest, and so can we. The port makes it easy, offering an in house engineering team, a flexible loading schedule, and interstate access. They take it off the ship, we haul it to you. The combination of the Port of Savannah and Project Freight is one of experience, know-how, and a track record of success.
For an in-depth overview of the Port of Savannah, head over to Georgia Ports!
To learn more about how Project Freight is serving Savannah's ports, check out our Blog